The Tapentadol vs Tramadol comparative study indicates that Tapentadol is two to three times more potent than Tramadol. It has a quicker onset of action and is a safer analgesic option with a lower risk of side effects, drug interaction, addiction, and dependency.
Tapentadol vs. tramadol is an extensively discussed opioid analgesic comparison due to its high potency in treating chronic pain.
Suffering from severe chronic pain is one of the most common reasons for people seeking medical help, as it restricts their mobility. A survey report by the CDC states that about 20.8% of American adults struggle with body pain [1]. Most chronic pain does not respond well to the conventional analgesic and requires more potent treatment options.
Two common FDA-approved analgesics to be prescribed for severe pain are Tapentadol and Tramadol. This pharmacological comparison of Tapentadol and Tramadol is to help readers make a better decision between the two extensively popular opioid pain medications.
Tramadol And Nucynta (Tapentadol)- An Overview
Tramadol is a centrally-acting analgesic used for moderate to severe pain. Its medical use was first approved in Germany in 1977 by the pharmaceutical company Grünenthal GmbH after being developed and patented in 1962.
Tramadol hydrochloride, under the brand name Ultram (NDA 020281), was approved by the FDA for medical use on March 3, 1995. In 2020, it was the 35th most commonly prescribed medication in the United States and considered the second option for pain treatment by WHO (World Health Organisation) [2].
Tapentadol is a novel opioid analgesic developed in 1980 to address the adverse effects associated with Tramadol. Its clinical use was approved in 2008 by the FDA and approved in 2010 in Europe.
It is an advanced pain management option where a single molecule can deliver analgesia through two working mechanisms. Available under the brand name Nucynta and Aspadol, this orange painkiller is effective across a broad spectrum of pain from nociceptive to diabetic neuropathy.
Tramadol Vs Tapentadol- Structural Differences
Tapentadol and Tramadol analgesics are phenypropylamines, a drug class that is used as a decongestant for nasal and bronchial issues and also as an appetite suppressant. Even though both pain medications work as opioid receptor agonists, they differ in their binding affinity.
The Tramadol and Tapentadol structure, as shown below, indicates that Tramadol is a 2-[(dimethylamino)methyl]-1-(3-methoxyphenyl)cyclohexanol with a chemical formula of C16H25NO2 and molecular weight 263.37 g/mol.

Tapentadol (3-((1R,2R)-3-(dimethylamino)-1-ethyl-2-methylpropyl) phenol hydrochloride) has a molecular formula C14H23NO and a molecular weight of 221.339 g/mol.
Nucynta Compared To Tramadol- Assessment Of Their Similarities And Differences
Tapentadol or Nucynta and Tramadol analgesics showcase resemblances and differences on specific comparative grounds, making it hard for most users to decide. A few similarities and distinct factors between them are listed below.
Drug Class:
Tapentadol and Tramadol are opioid pain medications. These are powerful pain medication that works with the brain cells.
Clinical uses:
Tapentadol and Tramadol are approved for treating moderate to severe acute and chronic pain that do not respond well to non-opioid analgesics.
Tapentadol is also officially approved by the FDA as an alternative treatment of diabetic peripheral neuropathy in the USA.
A few randomized controlled trials suggest that the evidence supporting using Tramadol for neuropathy is very low. A clinical trial in 1998 by Y Harati et al. suggests that the use of Tramadol is effective and safe for diabetic neuropathy. However, Rudolf Martin Duehmke et al., in 2017, say that there is only modest information on the use of Tramadol for neuropathic pain is available from small and largely inadequate studies with a potential risk of bias.
A study by Srinivas Kalyanaraman Iye et al. on patients after cardiac surgery demonstrates that Tapentadol is a more potent pain medication than Tramadol for postoperative discomfort. Tramadol patients needed a higher level of "rescue analgesic" for better pain relief than Tapentadol, as shown below.

Medical experts often provide rescue analgesics when the primary pain medication fails to deliver effective results, indicating Tapentadol is a better analgesic choice for post-operative body pain.
Effectiveness And Potency
Tapentadol is two to three times more effective and potent than Tramadol, states Lucien Roulet et al. in a 2021 study.
Legal Status
Tapentadol is a controlled substance and is classified as a Schedule II prescription drug by the Drug Enforcement Administration (DEA). Tramadol, on the other hand, is a Schedule IV drug in the USA.
The annex to the 1961 Convention classifies opioid or narcotic drugs into four Schedules. Schedule II drugs are substances or medications with a lower risk of abuse.
In comparison, Schedule IV opioid medications are harmful and have extremely limited medical use [3].
The legal status of Tapentadol and Tramadol in three other countries is listed below.
| Countries | Tapentadol | Tramadol |
| --- | --- | --- |
| Australia | Controlled drug | Prescription only. |
| Canada | Schedule I | Prescription only. |
| UK | Schedule II | Schedule III |
Availability And Prescription Modalities
Tramadol is available in 40 countries around the world, including Canada, Australia, the USA, China, Russia, Japan, and India. Whereas Tapentadol is available in 28 countries, as shown below.

Both these medications are available through medical prescription in most countries and cannot be bought over the counter. But, buying Tapentadol online without a prescription from trusted and licensed pharmacies is safe, with no possible legal disputes in most countries. However, buying Tramadol online is considered illegal in most countries and can have serious consequences, according to a website bonfire [4].
Cost and Affordability
The cost of Tapentadol and Tramadol may vary depending on factors such as pharmacy, available offers and discounts, and pill packages.
Generic Tapentadol tablets are unavailable; thus, Healthnaturo retails Aspasol 100 mg tablets at $2.77 per pill.
The cost of Tramadol (Ultram) 50mg in some of the local pharmacies in the US is listed below.
| Pharmacy | The cost of 60 pills | Cost per pill |
| --- | --- | --- |
| Costco | $234.87 | $3.9 |
| CVS | $226.05 | $3.7 |
| Target | $226.05 | $3.7 |
| Walgreens | $222.46 | $3.7 |
User Review And Testimonials
Several reviews and user ratings on the prestigious website Drugs and WebMD indicate that Tramadol has a slightly better user rating than Tapentadol, as shown in the table below.
Compound

WebMD

Drugs

Tapentadol

It has an average rating of 3.2 out of 10.

Effectiveness- 3.5.

Ease of Use- 3.5.

Satisfaction-3.

Tapentadol has a rating of 6.2 out of 10.

A positive experience was reported by 52%, whereas a negative experience was reported by 29% of users.

Tramadol

Tramadol has a user rating of 3.5 out of 5.

Effectiveness- 3.5.

Ease of Use- 4.5.

Satisfaction-3.5.

It has an average rating of 6.9 out of 10.

61% report a positive experience, and 25% report a negative experience.
Mechanism of Action of Tapentadol and Tramdol
Tapentadol and Tramadol are both selective for mu-opioid receptors and have an inhibitory effect on ascending pain pathways. Further, the monoaminergic effect of both opioid analgesics enhances the descending inhibitory pain pathway, thus lowering the intensity of the nociceptive stimuli.
Tramadol is a racemic mixture of two stereoisomers (arrangements of atoms)- (+)-Tramadol inhibits the serotonin reuptake, and (–)-Tramadol inhibits the noradrenaline reuptake.
It is metabolized in the liver to form O-desmethyl-tramadol, which has a 700-fold greater affinity than Tramadol for the mu-opioid receptors. Thus, administration of Tramadol contributes to a decrease in serotonin and noradrenaline reuptake inhibition while the mu-agonist effect increases, resulting in a complex pharmacological activity that is dependent on the rate of active metabolites.
Unlike Tramadol, the clinical activity of Tapentadol depends on its active or parent drug, as it has no analgesically active metabolite. The parent drug, Tapentadol, has about 50-fold lower affinity for mu receptor than Tramadol.
Furthermore, the activity of Tapentadol is similar to Tramadol on noradrenergic reuptake and about five times less effective on serotonergic reuptake.
Pharmacokinetics Differentiation
Following an Orally administration, the absorption of Tapentadol is about 32%, which is not affected by stomach acidity and changes in gastric motility, unlike Tramadol.
The protein-binding affinity of Tapentadol is 20% lower than Tramadol but with a better blood-brain barrier penetration.
The main pharmacokinetics parameters of Tapentadol vs. Tramadol are shown in the table below.
| Pharmacokinetic | Tapentadol | Tramadol |
| --- | --- | --- |
| Bioavailability | 32% | 70% |
| Onset of action | 30 minutes | 60 minutes (1 hour). |
| Maximum blood concentration | Sixty minutes (1 hour). | 120 minutes (1 and a half hours). |
| Active metabolite | Active drug | O-desmethyl-tramadol |
| T ½ (Half-Life) | 4 hours | 6 hours |
| Protein binding | 20% | 20% |
| Excretion | Kidneys (99%) | Kidneys (90%). |
| Main metabolic pathways | Liver P450 (CYP) enzymes. | Liver P450 (CYP) enzymes. |
To summarize, the efficacy of Tapentadol is a combination of two specific synergistic mechanisms of action (inhibition of noradrenaline reuptake and mu-opioid receptor agonism), whereas Tramadol does not combine these two different mechanisms of action in the same molecule.
Tapentadol Vs Tramadol- Dosing Guidelines
The recommended dose of Tapentadol and Tramadol is 100mg every 4 to 6 hours. Whereas the extended-release formula of Tapentadol and Tramadol should be taken every 12 hours.
Dosage form- Tapentadol is available as oral tablets, whereas Tramadol is available as injections and oral tablets.

Strengths- Tramadol is available in four dosages: 50mg, 100mg, 150mg, and 200mg. However, only 50 mg and 100mg of Tapentadol tablets are available.

Maximum Dosage- The maximum daily dose of Tapentadol and Tramadol is 700 mg and 400 mg, respectively.
Tramadol And Tapentadol Dosage In Patients With Renal Impairment
Tramadol is not an opioid of choice for people with severe renal impairment, as its half-life is increased in such patients. Such people should be prescribed immediate-release tramadol in doses of 50 mg and not exceeding 200 mg per day for patients on dialysis or with a glomerular filtration rate (GFR) between 10 and 30 mL/min.
Tapentadol is not recommended in patients with severe renal disorder, according to the summary of product characteristics (SmPC). At the same time, no dosage adjustment is necessary for mild to moderate kidney disorders.
Dosage Adjustments In Elderly Patients
No dosage adjustments are required for Tapentadol in patients above 65 years and older without hepatic or renal impairment. However, physicians recommend a dosage titration in elderly patients treated with Tapentadol based on individual responses.
The elimination half-life doubles, and the bioavailability of Tramadol metabolites increases by 35% in patients over 75 years. It is primarily due to reduced kidney functioning and metabolic activity associated with age. Thus, in elderly people, Tramadol dosage should not exceed a maximum of 300 mg per.
Scientific Data On The Conversion Of Tramadol To Tapentadol
Several studies incorporate the safety guidelines in patients switching from Tramadol to Tapentadol. A survey by H.G. Kress on cancer patients shows people with prior Tramadol therapy can directly switch to Tapentadol, with 70 percent of the patients experiencing improved results.
The reasons to discontinue Tramadol in such patients are lack of efficacy and high risk of acquiring dependency.
Toxicology And Abuse Potential- Tapentadol Vs Tramadol High
The risk of abuse and dependency with Tapentadol and Tramadol is considered to be lower than most other opioid pain medications.
The Tramadol extended-release form is proposed in doses up to 600 mg per day as a replacement therapy for opioid dependence by Kelly E Dunn in a 2017 clinical trial. However, a recent 2019 study by Cornelius A. Thiels et al. found that Tramadol was associated with a much higher risk of dependency in patients after elective surgery. The study concludes that Tramadol has a greater or similar risk of prolonged use to other schedule II opioid drugs.
Intake of Tapentadol and Tramadol in higher doses and abrupt cessation of these opioid pain medications can increase the risk of dependency and withdrawal symptoms.
A recent 2023 study by Joana Barbosa et al. approached a test called Conditioned Place Preference (CPP) in animal models to evaluate the abuse potential of Tramadol and Tapentadol. The five significant findings of the study are listed below.
The study suggests that both these opioid medications have structural similarities with morphine, which is known to activate brain receptors associated with the feeling of "pleasure," raising concern for Tapentadol and Tramadol use.

The study resulted in Tapentadol having no CPP effect, suggesting that it may have a lower abuse risk than Tramadol.

The study also evaluated if these test animals remembered the rewarding effects of these opioid analgesics. Tramadol seemed to have a longer-lasting memory effect than Tapentadol.

The mechanism of action of Tapentadol does not alter the brain's reward and motivation circuitry, thus resulting in being less likely to cause addiction.

The abuse potentail of Tramadol is linked to its impact on a specific brain receptor called MOR (mu-opioid receptor). In comparison, Tapentadol has a lower affinity for this receptor, as shown below.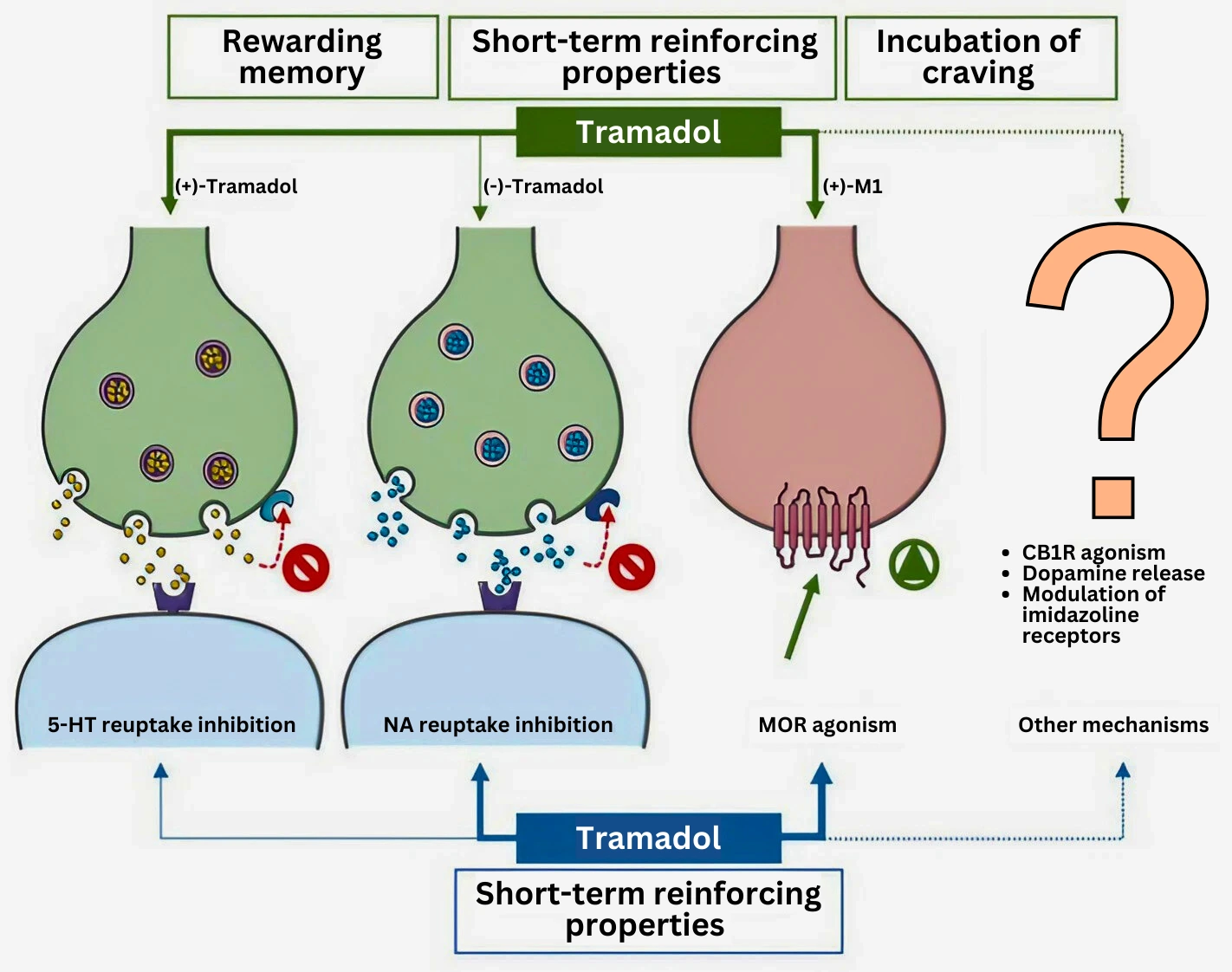 The study thus concludes that Tramadol has a higher potential to induce long-term memory for abuse and craving than Tapentadol. Further, prolonged Tramadol use by people with no reported body pain is at a higher risk of dependence.
Signs of abuse of Tapentadol and Tramadol in users are-
| Tramadol: Signs of abuse | Tapentadol: Signs of abuse |
| --- | --- |
| Pupil becoming small | Chest pain |
| Nausea | Clammy skin |
| Vomiting | Trouble breathing |
| Slurred speech | Excessive sweating |
| Impaired coordination | Dizziness |
| Drowsiness | Loss of consciousness |
| Change in the appetite of the user | Swelling in legs and hands |
Safety Assessment- Which Among Tapentadol And Tramadol Is A Safer Option?
The frequency of occurrence of adverse effects reported from Tapentadol and Tramadol is highly variable across studies, thus reflecting the wide range of doses, indications, and populations studied.
Tapentadol produces different peripheral and central adverse effects. Peripherally, it causes vomiting and Nausea due to its effects on the gastrointestinal tract. Its effects on the Central Nervous System result in somnolence, headaches, and dizziness.
Vomiting and Nausea
Both vomiting and Nausea are frequently associated with Tapentadol and Tramadol. The frequency of these side effects is dose and time-dependent and can be reduced by starting with a lower dose and gradually increasing it every 4 days.
Constipation
Tramadol is associated with a lower incidence of constipation. A clinical trial by C H Wilder-Smith and A Bettiga in 1997 suggested minor Tramadol interference with gastrointestinal motility.
A comparative study of Tapentadol with Oxycodone suggests that Tapentadol has a lower risk for constipation. However, its occurrence in people taking Tapentadol cannot be completely ruled out.
In clinical practice, patients treated with Tramadol do not improve from taking standard laxatives for constipation. In comparison, they should be taken cautiously with strong opioids such as Tapentadol.
Psychosis
In a clinical investigation by Srinivas Kalyanaraman Iye et al., 30 people taking Tramadol experienced Psychosis. Whereas people taking Tapentadol showed no signs of the condition, as shown below [7].

Respiratory Depression
Most opioids cause respiratory depression because they reduce the sensitivity of the respiratory centers to carbon dioxide.
Clinical experience shows Tramadol has a weak respiratory depressant effect in the intraoperative period, suggested M Cossmann et al. in a 1997 study. Another study by D Nieuwenhuijs et al. in 2001 confirms that a single dose of Tramadol 100 mg reduces mean ventilatory sensitivity to carbon dioxide by about thirty percent.
Tapentadol also had a respiratory depressant effect in a randomized controlled trial by R van der Schrier et al. in 2017. In this study, a single dose of Tapentadol 100 mg induced significantly less respiratory depression than an equianalgesic dose of Oxycodone. The researcher suggests that the noradrenergic stimulatory effects of Tapentadol compensate for the respiratory depression induced by its opioid activity. Thus, Respiratory depression is a possible but rare adverse effect of Tapentadol and Tramadol.
Serotonin Syndrome
Cases of serotonin syndrome have been reported with Tramadol in patients when exposed to other drugs with serotonergic properties. However, a few cases, including a 2017 study by Florence Moulis et al., suggest that Tramadol alone can also induce serotonin syndrome in case of overdose.
Tapentadol, on the other hand, has a lower serotonergic effect. However, Tapentadol was the second most relevant opioid in reported cases of serotonin syndrome, after Tramadol, according to an analysis of global pharmacovigilance data in 2016.
Cardiovascular Effects
Parenteral administration (routes other than the digestive tract) of Tramadol frequently results in Orthostatic hypotension due to peripheral venous vasodilation. Reports of rhythm disturbances, including bradycardia, tachycardia, and atrial fibrillation, have also been reported by Florence Moulis et al. in a 2017 study.
Tramadol at doses up to 600 mg per day did not induce a significant QT-interval prolongation (a measurement that assesses the electrical properties of the heart) in healthy volunteers, according to a 2018 study by Joseph Massarella et al. Reports of cardiac arrests have exceptionally been reported after Tramadol overdose in patients with a previous history of heart conditions.
In comparison, Tapentadol, when taken in 200 mg to 500mg per day, is not associated with significant changes in blood pressure or heart rate in patients with hypertension, according to a clinical trial by David M. Biondi et al. The overall cardiovascular safety of Tapentadol reassures these findings; however, its noradrenergic activity can induce serious tachycardia in a few cases. Furthermore, Tapentadol does not cause prolongation of the QT interval at doses up to 600 mg per day, as suggested by a 2010 randomized controlled trial by C. Oh et al.
Tapentadol Vs Tramadol - Drug Interactions
Using Tapentadol and Tramadol with other medicines can induce drug interaction. It can cause unpredicted side effects with diminished or heightened drug action possibilities.
Tramadol drug interaction is known to interact with 644 medications, whereas Tapentadol may interact with 372 drugs.
Tramadol Drug Interaction: 302 major drug interactions, 340 moderate drug interactions, and 2 minor drug interactions.

Tapentadol Interaction: 183 major interactions, 188 moderate interactions, and 1 minor interaction.
Do not take the following medications with Tapentadol and Tramadol without the supervision of a physician.
| Tramadol | Tapentadol |
| --- | --- |
| Amitriptyline | Alfentanil |
| Codeine | Clomipramine |
| Dextroamphetamine | Eletriptan |
| Grepafloxacin | Diazepam |
| Ivosidenib | Fluphenazine |
| Ketamine | Granisetron |
| Mobocertinib | Haloperidol |
| Nilotinib | Lurasidone |
| Ondansetron | Ondansetron |
| Pregabalin | Propiomazine |
| Rizatriptan | Sufentanil |
| Sumatriptan | Imipramine |
Cautionary Note- It is essential to note that this is not a complete list of all the possible drug interactions of Tramadol and Tapentadol, but it enlists the common drug interactions of these two opioid analgesics. It is, thus, advisable for users to consult a doctor before taking other medications and supplements with either Tapentadol or Tramadol.
Can You Take Tapentadol With Tramadol?
Coadministration of Tramadol and Tapentadol is known to cause major drug interaction resulting in central nervous system depression, causing coma, profound sedation, respiratory distress, and death in rare and extremely severe cases.
If coadministration is necessary, such patients should be monitored for signs of sedation and respiratory depression and are advised not to use hazardous machinery and to avoid driving.
Is Nucynta Stronger Than Tramadol- Our Final Thoughts
Tapentadol is considered to be a compound with a better clinical and safety profile as it overcomes some of the limitations of Tramadol, such as the likelihood of abuse, drug interaction, lower effectiveness, and longer onset of action.
Tapentadol's efficacy in treating a wide range of acute and chronic pain and its better tolerability profile than traditional opioids give it the upper hand over Tramadol.
Let us sum up all the benefits and demerits of both Tapentadol and Tramadol to understand the right analgesic choice.
Compound

Pros

Cons

Tapentadol

Tapentadol has a lower potency for drug interaction than Tramadol.

It is more potent and effective than Tramadol, according to a 2021 study by Lucien Roulet et al.

The toxicity profiles of Tapentadol and Tramadol is similar. However, Tapentadol is less likely to result in serotoninergic adverse effects such as vomiting, nausea, and hypoglycemia.

The onset of action of Tapentadol is shorter than Tramadol.

Tapentadol is more affordable.

Tapentadol is more likely to result in respiratory depression and constipation than Tramadol.

Generic Tapentadol is not available.

Tramadol

Available in generic tablets.

Better user rating.

It has a slightly longer duration of action in some individuals.

More widely available globally.

Tramadol is less effective than Tapentadol for treating Cancer pain.

It has a higher risk of drug interaction.

Has a higher risk of abuse potential.