Tapentadol is a novel centrally-acting analgesic approved by the FDA for treating acute and chronic pain. Studies of the analgesic demonstrate its dual mechanism of action, which contributes to the efficacy of the pain medication. Its distinct pharmacology has made Tapentadol and its brand version Nucynta a compelling analgesic choice, which has further translated into the care of patients with Fibromyalgia.
This study is to evaluate the potency of Nucynta for Fibromyalgia. It is a condition characterized by severe chronic pain in people. The CDC states that Fibromyalgia affects approximately 4 million adults in USA yearly [1]. Thus, it is crucial for health care providers to suggest specific treatment options.
Nucynta for Fibromyalgia: An overview of the basics
Several studies suggest the effect of Tapentadol for Fibromyalgia (FM) is associated with its ability to alter the baseline opioidergic activity (an agent which modulates the opioid neuropeptide in the body) in such patients.
Tapentadol for Fibromyalgia helps treat the several pain symptoms associated with the condition. Radioimmunoassay of several opioids in the cerebrospinal fluid with Fibromyalgia was found to be normal, indicating its possible relation as a line of treatment for FM.
Some key symptoms of Fibromyalgia are-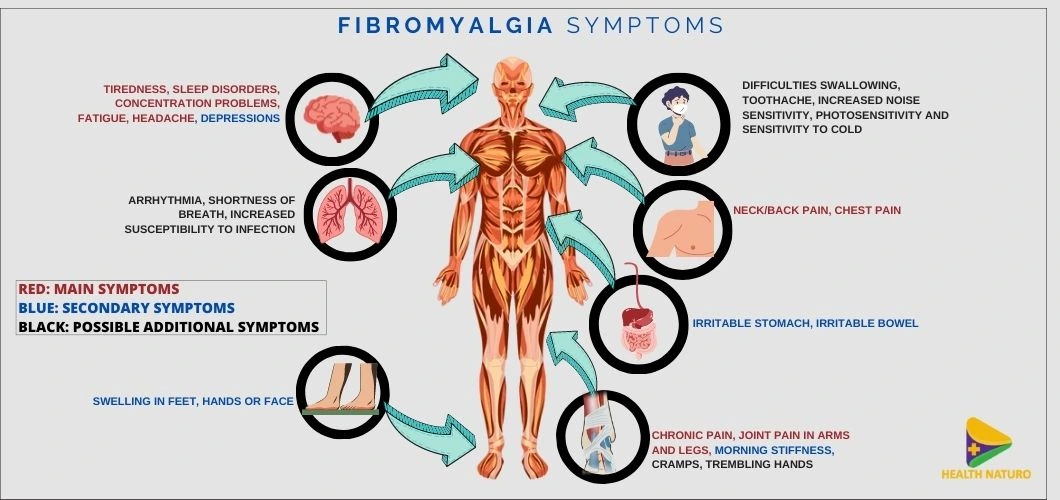 Widespread pain-
The pain from Fibromyalgia is persistent and may last several months. Such discomfort can be felt on both the side of your body and above and below your wrist.

Sensitivity to touch-
Suffering from Fibromyalgia can make patients sensitive to touch. According to Dr. Brancato, patients can experience immense pain just from people brushing against them in a crowded room [2].
Sleep issues-
People with Fibromyalgia often struggle with falling asleep. Dr. Moris states that most patients stay awake all night and feel tired the following morning [2].
Fatigue-
Even if patients with Fibromyalgia sleep well, they wake up feeling weary. The condition causes immense pain all through the night, thus disturbing the sleep cycle of such patients. Dr. Brancato reveals that most people feel awful in the morning and find it challenging to go through their basic chores [2].
Headaches-
Though it is less frequent, patients with Fibromyalgia may experience headaches. This condition may also result in stiffness in the neck, thus exaggerating the severity of pain.

Jaw and facial pain-
Fibromyalgia may be associated with pain in the jaw and face muscles. Such pain can result from factors as common as talking, chewing, or yawning. A study hypothesizes the intense facial pain of Fibromyalgia is correlated with low sleep quality in people [3].
In 2010, the diagnostic criteria for Fibromyalgia were updated to focus on patients with widespread pain, fatigue, and sleep disruption.
Using Nucynta for Fibromyalgia helps manage the signs of severe pain within 30 minutes of administration. According to the website health VIC, opioids such as Tapentadol are an emergency treatment option for migraine[4], thus effectively treating fibromyalgia-associated headaches.
Tapentadol dosage before sleep will ensure a pain-free night, thus helping people sleep well and wake up energetic and fresh. Thus, making Nucynta a promising choice of treatment for fibromyalgia.
Factors that aggravate pain in fibromyalgia-
Persistent peripheral pain generators (spinal and peripheral arthritis, tendinopathies, and myofascial trigger points)

Obesity

Smoking

Catastrophising cognitive style

Depression

Opioid-induced hyperalgesia

Statin myopathy

Sleep disorders (obstructive sleep apnea, restless legs, and periodic limb movement disorder)

Psychosocial stressors
Mechanism of action: The role of opioids in treating fibromyalgia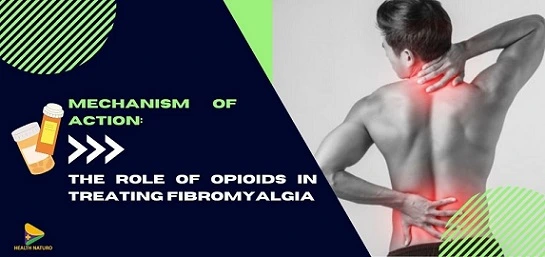 The pain mechanism of Fibromyalgia is complex; however, it does not affect the analgesic function of most opioids.
The mechanism of action of Tapentadol is to prevent pain stimulation from the body from the brain receptors. With a half-life of about 4 hours, the analgesic's effect lasts 5 to 6 hours after intake.
The ability of the single molecule of Tapentadol to deliver two distinct mechanisms sets it apart from most other analgesics. It also makes Tapentadol a more effective analgesic choice in the market. The pre-clinical data demonstrate its application across a broad spectrum of pain.
Along with the use of Nucynta for fibromyalgia, it can also be taken concomitantly with norepinephrine-related pathways, such as Tramadol can be beneficial in some patients. However, the intake of Tapentadol with other medicines can cause drug interaction and thus should be done under the strict supervision of a physician.
Clinical evidence of Tapentadol usage in Fibromyalgia
A study evaluates the ability of Tapentadol to enhance the inhibition of chronic pain with fibromyalgia. It shows that Tapentadol compared to placebo, significantly reduces the severity of pain associated with FM.

The above graph represents the high potency of Nucynta for Fibromyalgia over three months [5]. Another similar study from the European Journal of Pain concludes that Tapentadol for Fibromyalgia is effective and helps relieve severe pain. It, however, helped patients with normal cornea nerve fibers (nerve bundle of the eye), while patients with abnormal nerve fibers showed no response to the treatment.
Several other studies contradict these findings. A study indicates that even though using Nucynta for Fibromyalgia reduces the severity of pain over time, opioid users showed lower improvement with insomnia, daily living, and depression. The comprehensive report of the study offers little support for the long-term use of opioid analgesics in patients [6].
When to see a doctor?
The condition of Fibromyalgia should not be ignored as the intense pain caused by it can affect the quality of your life. It is advised to seek immediate medical help if you experience fatigue, musculoskeletal pain, sleep issues, and fatigue.
Benefits of Nucynta for Fibromyalgia migraine
Fibromyalgia with migraine can intensify the discomfort in people as they have several factors in common. Studies report that about 18 to 35.6 percent of FM patients suffer from migraines [7].
According to a report published in the Journal of Headache Pain, symptoms of depression are more common in people with Fibromyalgia and migraine [8]. The use of opioids such as Tapentadol for migraines can offer users limited benefits. Even though they are classified as an emergency treatment for headaches, the use of opioids for migraine is not often prescribed due to the risk of developing dependency [4].

User reviews on the benefits of Palexia for migraine on the website "Stuffs that works" shows that 67 percent of the patients experienced positive result from the analgesic.
Palexia is a brand name of Tapentadol and shows similar efficacy and benefits as its generic version. Palexia for Fibromyalgia is also a potential solution and taken as an alternative for Tapentadol 100mg. As they are formulated with Tapentadol as their active compound, it helps to relieve pain within 30 minutes of intake.
Limitation of use of Tapentadol for Fibromyalgia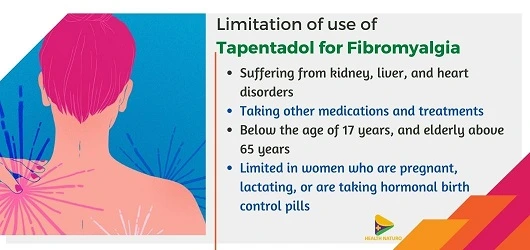 Fibromyalgia can affect people of both genders; however, it is more predominant in women. According to the National Institutes of Health, 80 to 90% of people diagnosed with fibromyalgia are women [9].
The use of Tapentadol for Fibromyalgia is limited in women who are pregnant, lactating, or are taking hormonal birth control pills. The website "Drugs" lists the use of Tapentadol to cause respiratory depression in newborns if taken during birth. Thus, the use of the analgesic during labor is not advisable.
In addition, the administration of the analgesic is restricted to people who are:
Suffering from kidney, liver, and heart disorders

Taking other medications and treatments

Below the age of 17 years, and elderly above 65 years.

Alcoholic
Currently, the IM/IV formulation of Tapentadol is not approved by the FDA, and therefore, patients who are fasting cannot take the opioid pain medication [10].
Testimonials for Nucynta to treat Fibromyalgia


The first line of treatment for Fibromyalgia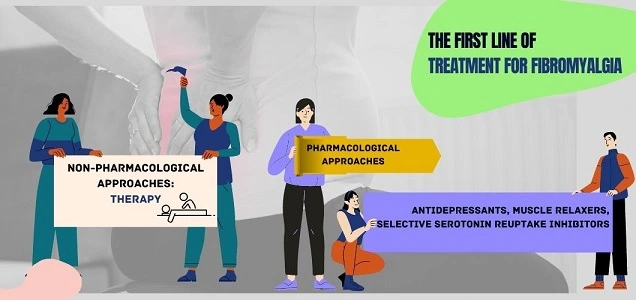 Non-pharmacological approaches-
Most medical management of Fibromyalgia is often partially successful, thus making life with Fibromyalgia more complex than most chronic disorders. It is also a reason for physicians to prescribe an amalgamation of therapies to improve the chances of success. Nucynta for Fibromyalgia can be taken in conjugation with several non-pharmacological approaches.
Exercises and psychoeducational approaches show high efficacy among non-pharmacological therapies. Growing evidence suggests that self-management training skills work best in supportive groups. The other treatment that one may go for is the cognitive behavioral approach.
Pharmacological approaches-
Not all patients benefit equally from using medicines or opioids for fibromyalgia. The use of Tapentadol or other medication should be started at a lower dose and must be cautiously increased. These analgesics should be taken to help with pain, psychological distress, and sleep disturbance symptoms.
Apart from the use of Nucynta for fibromyalgia, the other frequently prescribed medicines for this condition are:
Antidepressants-
A low dose of amitriptyline is the first line of medicine for treating sleep issues and pain in fibromyalgia. However, weight gain and development of tolerance limit the use of amitriptyline. The other antidepressants that are often prescribed for Fibromyalgia are Duloxetine and Milnacipran.
Muscle relaxants-
Fibromyalgia is a skeletomuscular pain, thus making muscle relaxers an excellent treatment option. Some effective muscle relaxers that show promising results in people are the Soma pill, Flexeril, and Zanaflex. Beginners can buy Soma 350mg online from Healthnaturo to effectively manage the signs of fibromyalgia.
Selective serotonin reuptake inhibitors (SSRIs)-
Citalopram (Celexa)

Escitalopram (Lexapro)

Paroxetine (Paxil, Pexeva)

Sertraline (Zoloft)

Fluvoxamine (Luvox)

Fluoxetine (Prozac)
Our final verdict
Nucynta for Fibromyalgia is not the first line of treatment, even though clinical evidence shows promising results from the analgesic. The risk of dependency and abuse associated with Tapentadol limits its use in people.
People can buy Tapentadol 100mg online as it is one of the faster opioid analgesics on the market. When taken with other therapeutic approaches, Tapentadol shows better results in patients. However, the intake of Tapentadol with other medicines should be done under the supervision of a medical professional. People taking nucynta for Fibromyalgia are recommended not to take the medication over three continuous weeks.